Located in the heart of the Southern United States, the nation's fastest growing region, Cherokee County enjoys a thriving and profitable economy and an abundance of natural and manufactured resources.
Cherokee County sits in a prime location just off I-85 between Charlotte, North Carolina and Greenville/ Spartanburg, South Carolina, two of the nation's fastest growing metropolitan areas.
The county has easy access to all of the Southeast's major markets, as well as many of the Midwest. Charlotte Douglas International Airport and Greenville- Spartanburg International Airport are both within 45 miles, and the main line of Norfolk Southern Railroad runs through Cherokee County. The port of Charleston is easily accessible via major Interstate highways.
tag heuer replica
Gaffney, the county seat, is the largest city in the county, and Blacksburg is the second largest. Cherokee County offers an unbeatable combination of such factors as an abundant and educated workforce, a highly diversified industrial base, a high standard of living and quality of life, a pro-business attitude on the part of business leaders and government officials, a positive work ethic, customized training by South Carolina Special Schools, and easy access to transportation routes.
Most importantly, it is the citizens of the Cherokee County Community that sets us apart. Newcomers find friendly neighbors, schools that welcome their involvement, recreation facilities and sports in which they can participate, civic organizations, and a caring church community. Cherokee County– be it in Blacksburg, Gaffney, or somewhere in between– is a community you will enjoy calling home.
Add in the county's beautiful setting in the foothills of the Appalachian Mountains, and Cherokee County becomes the perfect choice for business establishment, relocation, or expansion.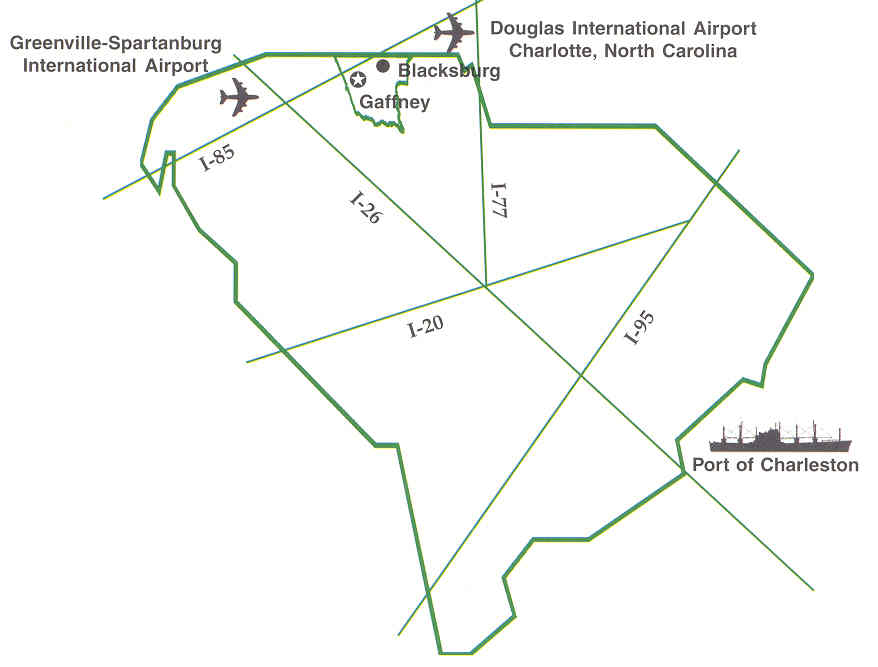 Cherokee County Development Board
225 South Limestone Street
Gaffney, SC 29340
864-489-5721